Based on temperature alone it really seemed a no brainer, that decision of ours eight days ago, to head to Hawaii sooner than our planned mid-January departure.
Directional sign Kaua'i
2017 began at our Seattle area home with daytime temperatures in the low 30F's (-1C) and nighttime's dropped to 20's (-6.6C) and below. Snow had dusted our lawn and blanketed other surrounding areas.
In Hawaii day time temperatures were 79F (26C) and nighttime 67F (19C).
Beach on Kaua'i
A no brainer for sure. But we were already booked to depart in mid-January for our timeshare life on Hawaii's island of O'ahu and weren't sure that a last-minute change of airline tickets and finding a reasonably priced accommodation on short notice was in the realm of possibility.
Sunrise island of Kaua'i
We put our spur-of-the-moment idea into action by checking the rental sites that specialize in timeshare and interval-home rentals. Our reasoning was that having a kitchen and eating at home would save both money and calories. Our go-to sites include
Redweek.com
and
TUG.com
(timeshare users group). While both sites offered plenty of 'short-notice' choices, the prices were somewhat inflated to our way of thinking, which might have been why they were still available only a week before the rental period would start.
Of course, we are talking January, the highest of high seasons – when many, like us, are desperate to leave the cold behind - so we expanded our search to include hotels. The destination didn't matter, we were open to staying on any of Hawaii's eight major islands.
Mural - Maui, Hawaii
Hawaii, our youngest state, sits in the Pacific Ocean southwest of the United States mainland, and is made up of eight major islands, several atolls, numerous smaller islets, and undersea seamounts that extend 1,500 miles from the Big Island (Hawaii) in the south to the Kure Atoll in the north. (Early day explorer James Cook happened upon them in 1778 and named them
The Sandwich Islands
, not because of their grouping but to honor the First Lord of the Admiralty John Montagu, 4th Earl of Sandwich.)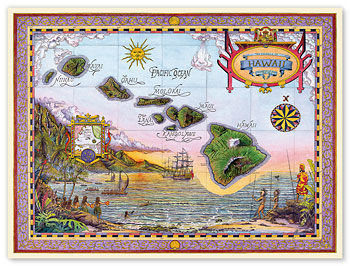 State of Hawaii
Our search took us to our favorite booking sites including
Kayak.com
,
Hotwire.com
and
Orbitz.com
. In each case accommodations could be had, but when coupled with the potential airline change fee, a week's rental car and a possible inter-island flight, we'd just about given up when a
TripAdvisor
reviewer mentioned traveling there via a
Costco Travel Package
. . .
hmmmm, hadn't thought to check there . . .
Maui, Hawaii
Costco,
for those who aren't familiar with the name, is a big-box, big-quantity warehouse-type store, that got its start in our town, Kirkland, Washington, several decades ago. There are now 674 Costco stores world-wide including those in Canada, Australia, Mexico, United Kingdom, Taiwan, South Korea and Japan. It is a membership store that we've belonged to for many years.
In addition to large quantity supplies and food, we've found some of the best prices for rental cars are on its on-line travel site and we check there routinely before booking cars. (By booking through Costco the second driver - me! - is always free. That isn't always the case when booking directly with the car company.) Thinking back, a couple years ago we booked a Hawaiian get-away package for a hotel that had provided us a few nights of fun in Waikiki. Why hadn't we thought of it earlier?!
Beach - Lana'i Island
Once again, Costco came through with a six-night getaway package on Kaua'i, nicknamed The Garden Island for its lush foliage that carpets its hillsides and valleys.
Kaua'i - the Garden Island
The package includes: six nights in a standard room at the
Marriott Courtyard Coconut Beach
, near Kapaa, an
Alamo
full-size rental car, buffet breakfasts for two, and a $50 gift card to Costco. The hotel's daily $20 fee is extra.
So was it a real savings? Yes! To the tune of $800, as a matter of fact. We compared the prices of renting the hotel either from one of the sites mentioned above or from Marriott, the cost of renting the car (through Costco) and of paying for the breakfast separately. Our cost would have been $1,986 but instead paid the package price of $1,194. The buffet breakfasts alone cost $23 per person and that would have amounted to $276.
Saved money changing our flights
The change fee with Alaska Air was a $125 per ticket, but the fare to Kauai was less than that we'd paid to Honolulu, so our change resulted in a $65 refund! (Sometimes changes do work to the benefit of the passenger, you just don't hear about them as often as the horror stories related to cost increases.)
Hybiscus bloom - Hawaii
The inter-island flights will cost about $200, which we reason, we'd have easily spent going out for dinner and wine a couple of times here in the frigid Northwest.
Land of Aloha
So here we are in Kauai where the morning temperature is 66F at 6 a.m. The Weather Channel tells us it is 35F and snowing back in Kirkland. We standing on our deck barefoot wearing tee shirts and shorts, toasting the new day with a cup of Starbucks, awaiting sunrise. Yes, that spur of the moment idea was a no brainer - and a good one at that!
When we began the blog one of our purposes was to share tips about travel deals – and sources for travel deals – with our friends. I want to assure you we don't get any kick-backs or deals from the companies we recommend, including those mentioned in this post. It was just such a good deal – and such an easily missed one – that we wanted to tell you about it. It also is a reminder to ourselves to think outside the usual box when we come up with one of these last-minute travel ideas.
Well be back next week and hope to see you here as well. Until then,
Ahh-Low-HA!
as we say in Hawaii!
Linking up with:
Through My Lens
Our World Tuesday
Wordless Wednesday
Travel Photo Thursday
Photo Friday
Travel Inspiration